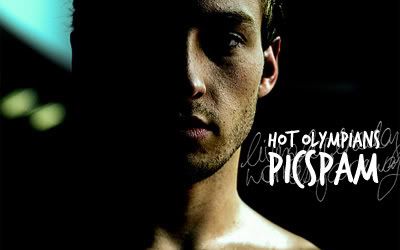 FEATURING: Matthew Mitcham, Alexandre Despatie, Matteo Tagliariol, Thomas Daley & Michael Phelps
WARNING: Contains half-naked sexy men in tight speedos. May induce heart attacks. 70+ Images. Not dial-up friendly.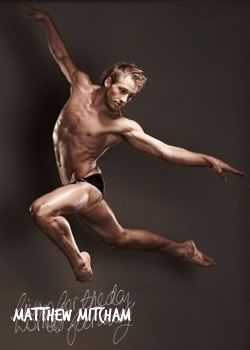 Matthew Mitcham (Australian Diver)
Men's 3M Springboard & Men's 10M Platform
That bulge in the photo on the right keeps demanding my eyes attention. I can't help it!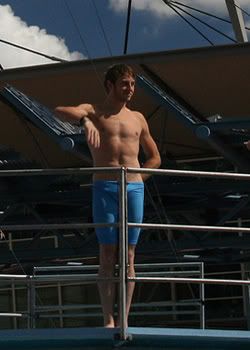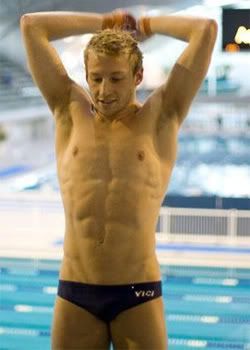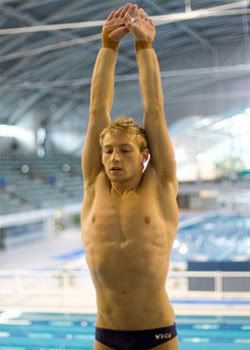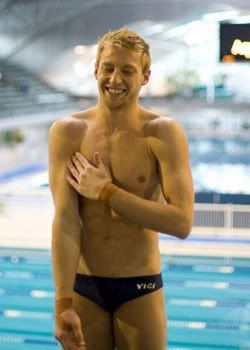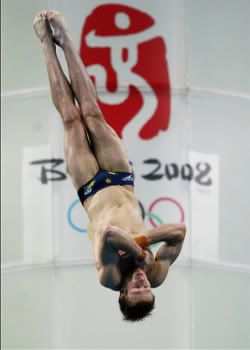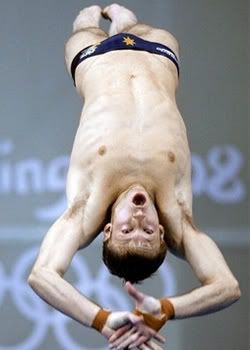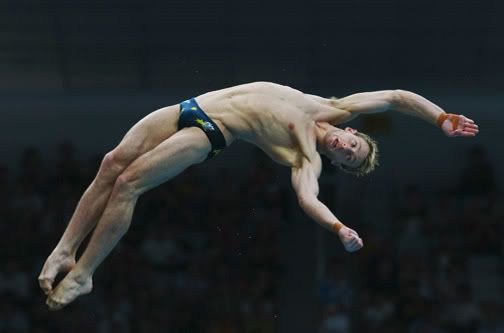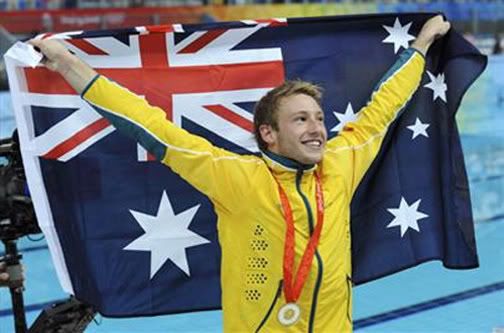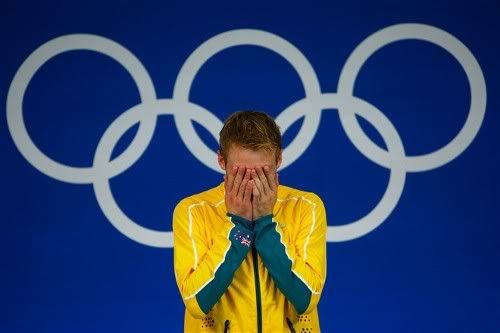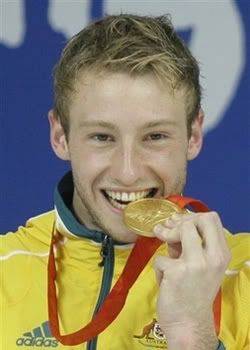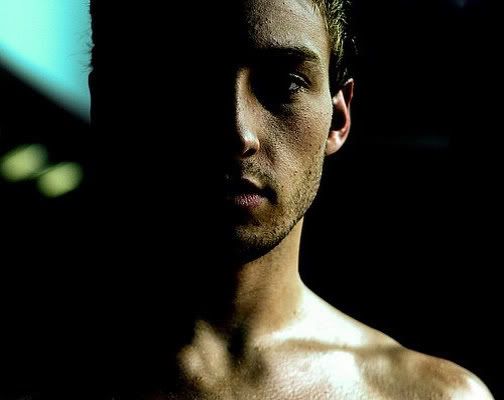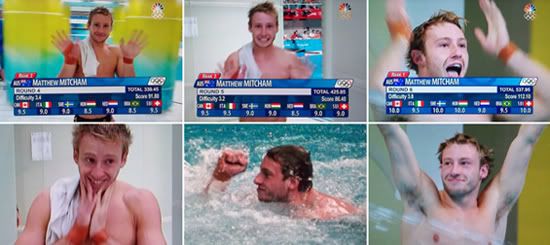 This fine young 20 year old came to my attention while I was cheering on Britain's Tom Daley in the Men's 10M Platform Preliminary. Well, I say attention, what I mean is that my jaw dropped, my eyes nearly fell out of their sockets and I started mumbling rubbish. Pretty men do that to me and when these pretty men have perfect hips and attention grabbing V's then I'm a mess. When the commentator dropped in the fact that he is the first openly gay Australian in the Olympics my adoration for him doubled and upon an further reading I found out that he applied for a grant to take his boyfriend with him to Beijing because they couldn't afford it themselves. How cute! Matthew has definitely been my one to watch/ogle over the last week and I love how he grins, waves and sometimes blows kisses at the cameras when he comes out the pool after each dive. He had me biting my fist to stop from screaming during to 10M finals, but that did nothing to help me from deafening myself with my squeals when he scored near perfect on his last dive and got gold :D Oh my god, my chest ached when he started crying out of joy. Nrgh!
"My cheeks hurt from smiling, my face hurts from the chlorine, my legs are sore from jumping up and down. I'm in pain and I'm tired, but I'm so happy."
n'awwwww!
Interview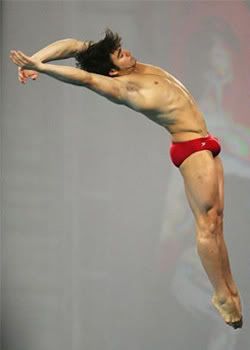 Alexandre Despatie (Canadian Diver)
Men's Synchronised 3M Springboard & Men's 3M Springboard
Yes, the crotch shots are completely necessary. Look at the right photo! Good lord!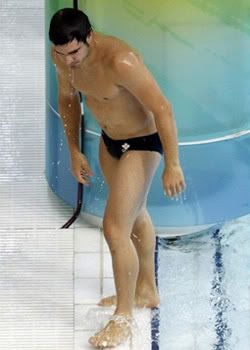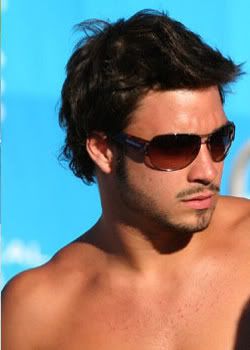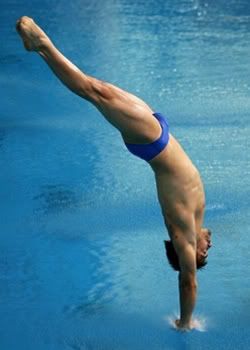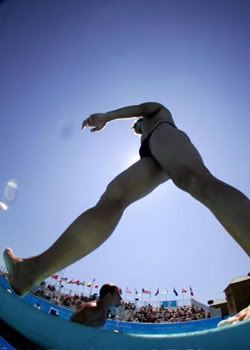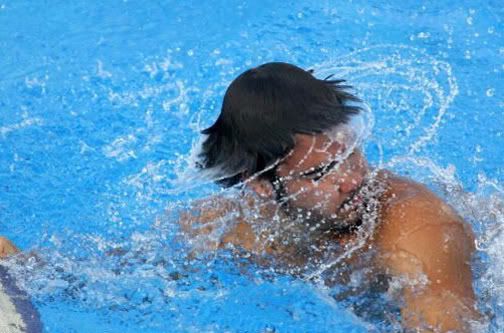 Unf. How could I not add this man when he all but mesmorised me with his bouncing junk on the springboard? My eyes just went up and down, up and down with him. I swear if it wasn't so good on the eyes it should be made illegal. He made me feel like a voyeur of sorts. (Whilst my mother is convinced that Women's Beach Volleyball is for perverts, I'm 100% sure that Men's Diving is eye candy for the women of the world.) I managed to break myself out of the 'jiggling cock' reverie long enough to break a grin at him winning silver on in the Men's 3M Springboard.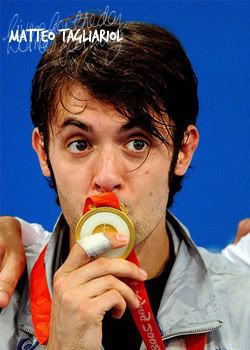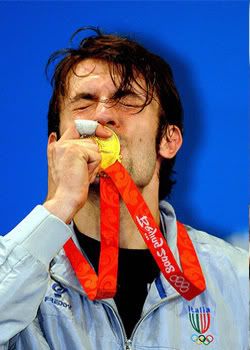 Matteo Tagliariol (Italian Fencer)
Men's Individual Epee & Men's Team Epee

Nrgh, he's looks amazing even when he is all but making out with his gold medal.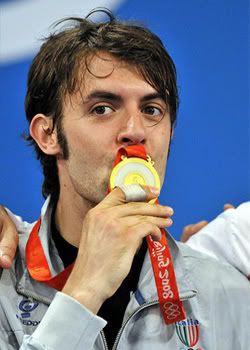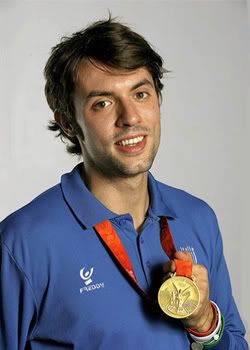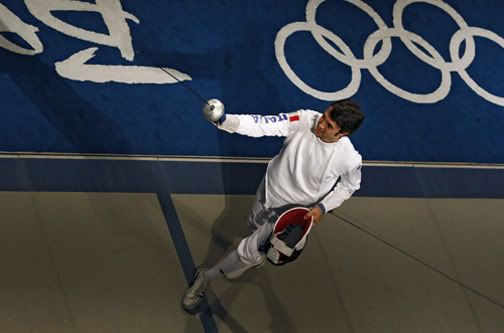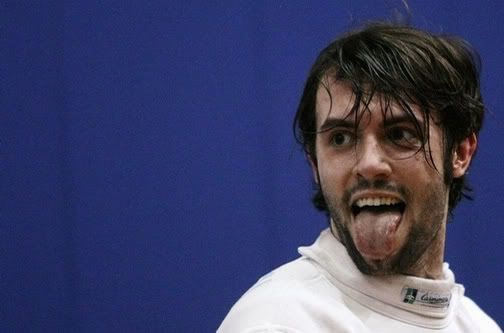 Matteo has got to be Milo Ventimiglia's secret love child (with who? I'm thinking Conor Oberst) or long lost younger brother. It is a shame that fencing calls for him to wear so much protective clothing (we can't even see his pretty face when he is fencing, grr) because I'd very much enjoy seeing him in some skimpy lycra/spandex/speedos. Nevertheless, I don't think anybody who was watching him when he won his gold medal in the Men's Individual Epee didn't crack a smile at how delighted he was to get Italy's first gold of the games. I sort of want to grab him and squish him :]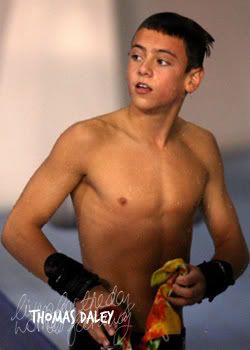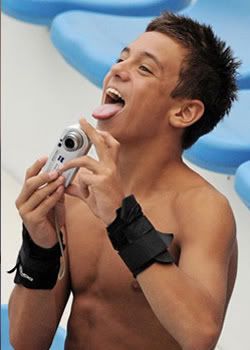 Thomas 'Tom' Daley (British Diver)
Men's Synchronised 10M Platform & Men's 10M Platform

for
owlbones
This boy is so pretty, but he makes me feel like a pervert!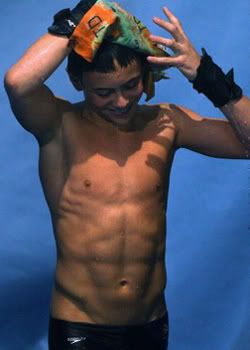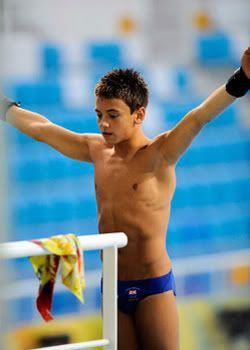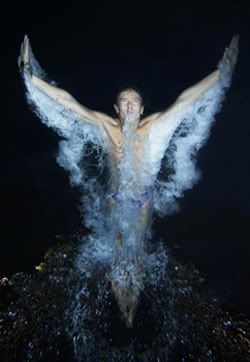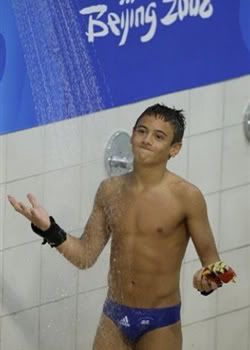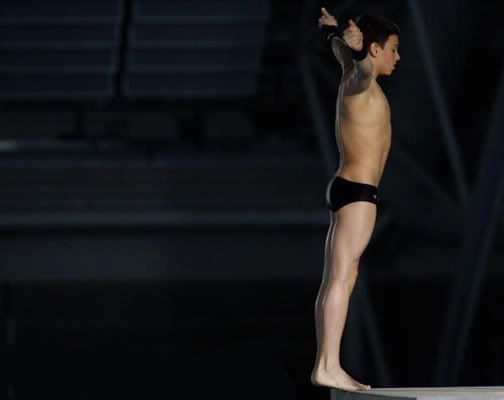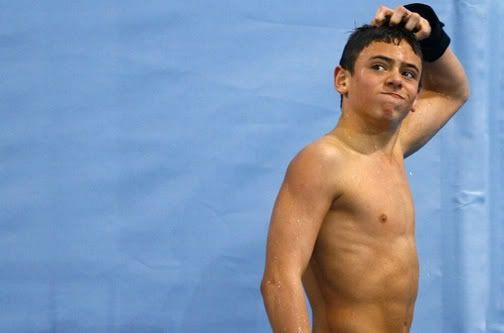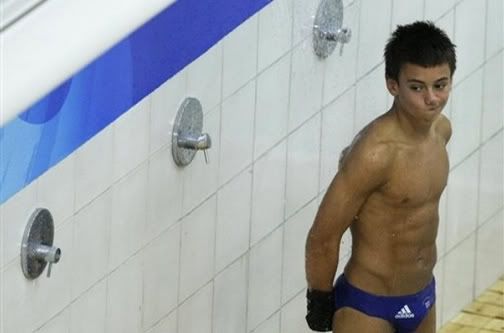 Tom is both fine (I'm not going to go as far as hot until he ages a few years) and has a body I'm never going to complain about (he has
the
hips), but fucking hell on wheels, THE BOY IS ONLY FOURTEEN. Seriously, I feel like I could be arrested for being in possession of photographs of a minor! I try not to think about this most of the time though. I love watching him dive because he is so good for his age and he has the most adorable little twitch in the corner of his mouth when he is preparing on the edge of the platform. My favourite dive is the 'Magic Tom Daley Disappearing Act' as his mentor Leon Taylor has dubbed it. I sincerely hope that media don't try to ruin him over the next four years and we all know that he is going to come back better than ever in 2012 on home turf (and he'll actually be legal then, haha). Coming 7 out of 12 in a competition with older, more experienced men than himself is something he should be so proud of; all of us back home are *squishes*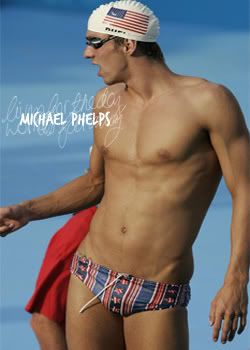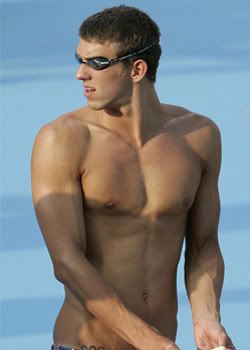 Michael Phelps (American Swimmer)
Men's 200m Individual Medley, Men's 100m Butterfly, Men's 4 x 200m Freestyle Relay, Men's 400m Individual Medley, Men's 4 x 100m Medley Relay, Men's 4 x 100m Freestyle Relay, Men's 200m Butterfly & Men's 200m Freestyle
for
attachedtopanic
Where the fuck do I start with this
super human
man?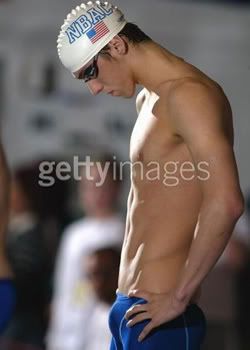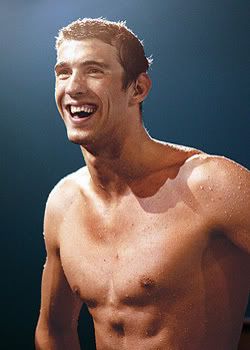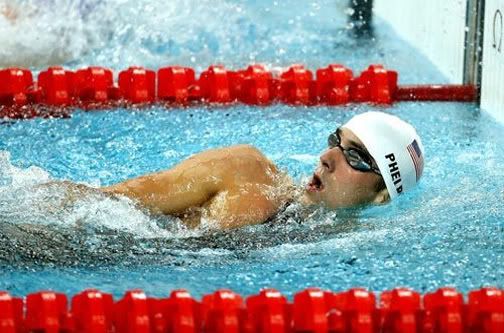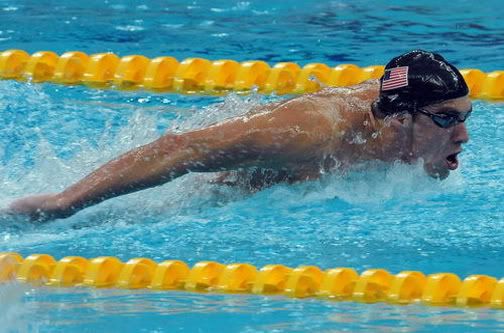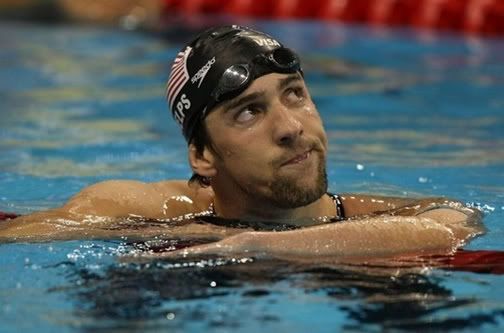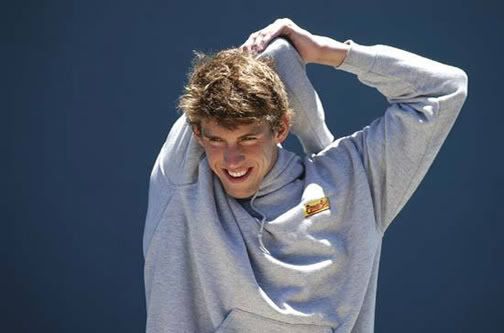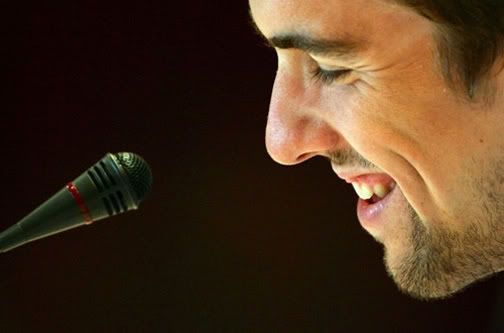 It would have been a crime not to add the above full-body speedo photo. Look at it, LOOK AT IT! Just, fuck me XD How does he get it in there? What is there not to love about this man? I've come to believe that he must be half-human and half-dolphin which is perfectly fine by me because I love dolphins, haha. He is absolutely phenomenal and stands as an example of how you can set yourself the craziest of goals and you can still reach them as long as you persevere. Besides that, I fucking love the olympic rings tattoo he has (dangerously low) on his hip and my favourite photo is the headphone one. Guh. Unf. Nrghhhh!
- - -
There! Ha, originally this was going to have so many more hot olympians, but all the lesser known athletes are really hard to find photos of (the ones of Matthew only came online
after
he won his gold yesterday) so the 70 odd ones of these five young men will have to do. While searching for photos for this picspam I came across
LOL-YMPICS
and if you want an excuse to laugh then go ahead over there. Anyway, this post is going to stay public so feel free to whore this out anywhere you like because something like this should not be kept just among friends :]
x